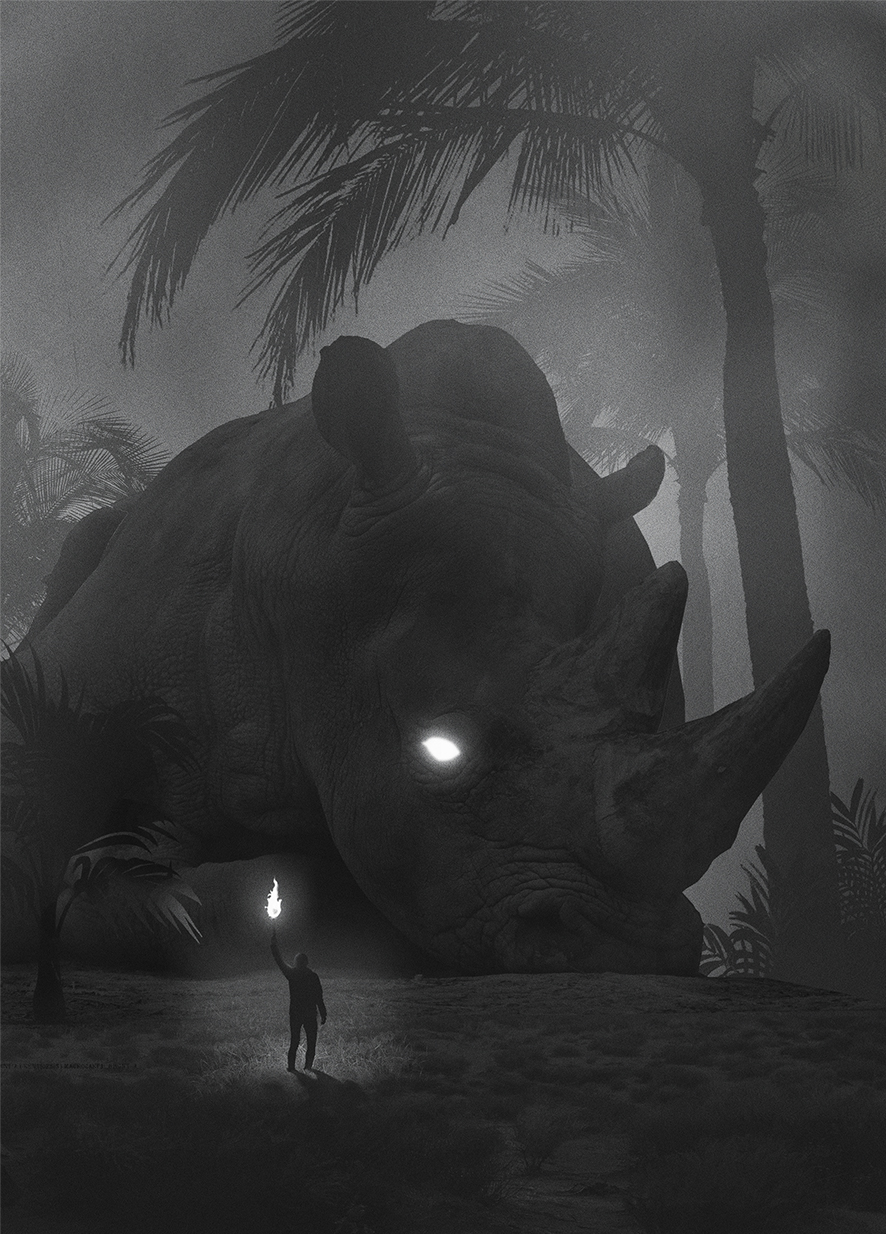 What can you see? What do you think? What do you wonder? (Use the See think wonder sheet.)
What is the rhinoceros doing? Is it injured? Why is its head resting on the ground?
Why is its eye glowing?
Can it see the man?
What is the man doing? Why is he holding the flame torch above his head? Can he see the rhino?
What is he going to do? Is he going to help the rhino?
Is anyone else around? Are there any other rhinos?
Which (the rhino or the man) is normal-sized?
Why is the picture called 'Fear'? Is the man fearful? Is the rhino?
What is fear? List your thoughts, beginning each sentence 'Fear is…'. Put them together into a poem (like this one: Fear Is). Consider what fear looks like, feels like, and what causes fear.
Dawid Planeta captioned the picture with this quote:
"One challenge at a time, I try to turn into the face of fear and tell it "you are not my master, you are the product of my self and I am your master." I look into the monster's eyes until it disappears. Then I am free." 
― Rohvannyn Shaw
What does it mean? How does the quote link to the picture?
What do you know about rhinoceros?
Find out more here: www.savetherhino.org/ and watch this video: Save the Rhinos! Create an information page about the rhino.
Some species of rhino face extinction for two reasons: they're hunted by poachers for their horns, and their habitats are being destroyed. Find out more about this and plan an advertising campaign to save the rhinos. Will you write a letter, design a poster, build a website, or make a video advert? How will you persuade people to act and make a difference? [Watch Mr P's killer whale video campaign for inspiration: Would you let it happen to me? Whales in captivity.]
If you need any motivation, watch this: How To Change The World (a work in progress) – Kid President.
'Some people see the bad in the world and just choose to ignore it.' Is that what you want to do? What's stopping you from trying to make a change?
Remember: 'Things don't have to be the way they are.'
If you need any help changing the world, ask an adult to send your writing/posters/videos to sam@onceuponapicture.co.uk and I'll help to get your message out there!
Credit: Dawid Planeta
https://minipeople.tumblr.com