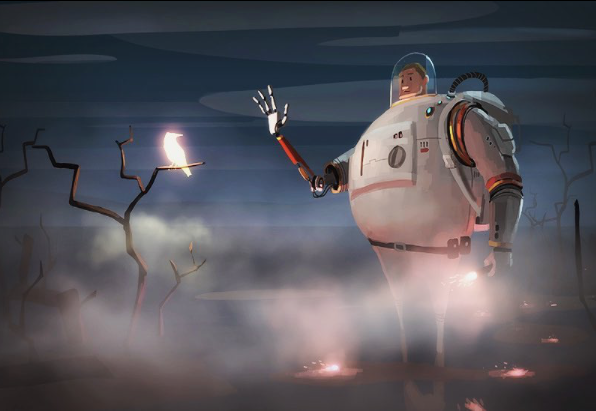 What can you see? What do you think? What do you wonder? See think wonder
What is the glowing bird? Is it real? Why is it here? Is the man going to touch it? Would he be able to?
What are the glowing lights (and the one in the man's hand)?
Why is the man wearing this suit?
Where did he come from?
Did he know that the bird would be here?
Cody crash landed on an alien planet and is lost in the woods. A mystical fog is covering the area. To make sure he knows where he came from, he is using flares to mark his way. Bright sparks are popping and lighting up the fog. Cody was born without a right arm, but his biomechanic arm is helping him to break through the  dense spiky foliage of the swamp. He is standing knee deep in the water as he reaches a clearing. Something is glowing on top of a branch. As he approaches it, he realizes that it is a bright glowing raven. He cannot help but reach out to it, and he whispers: "Are you my spirit animal?"
(From Goro Fujita's Instagram page)
Was anyone with Cody when he crash landed?
Why is the fog described as mystical?
What does 'dense' mean? What does 'foliage' mean? What would it be like to walk through the dense spiky foliage of the swamp? Act this out. (Remember, he is 'knee deep in the water'.)
Why is the bird described as a raven? Would the mood change if the bird was different (e.g. a robin, a dove, a pigeon)?
What is a spirit animal? Why does Cody ask this?
Continue Cody's story.
Credit: Goro Fujita
http://chapter-56.blogspot.co.uk