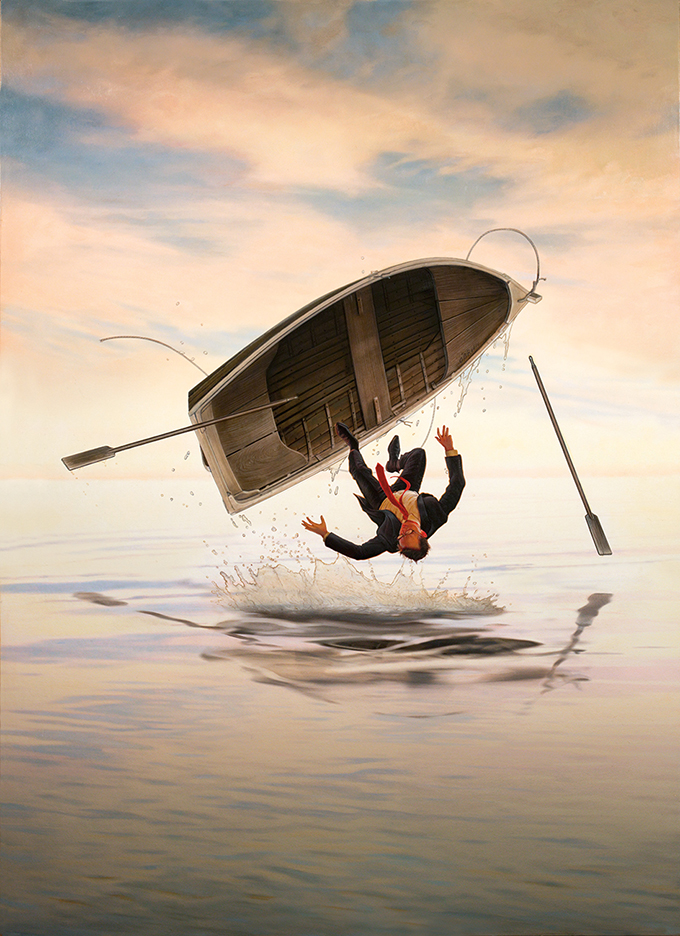 Look at the picture and imagine that you are a detective responsible for finding out what happened here. What do you know for certain? What questions do you have? Compare your questions to the ones below – did you think of any others? Did you miss anything?
Who is the man? 
Why was he in the boat? Where was he going? What was he doing? Why was he wearing a suit? Is this appropriate attire for rowing? When he got dressed that morning, did he know that he would be in a rowing boat later that day? 
Was he alone? 
Is there something in the water?
What caused the boat to lift up out of the water and turn over? 
What happened to the man after this? Was he able to give evidence after this event? 
Try role-playing different interviews and conversations around this picture:

Two detectives trying to work out what has happened;
A detective and an eye-witness;
A detective and the man (if he is able to give evidence);
A detective and the owner of the boat rental shop;
Anyone else?

When you have decided on what you think is the most probable explanation, write a detective's report detailing your conclusions and the evidence.
Fiction link: 'Francis', by Dave Eggers. (Use the transcript if the film is judged to be unsuitable for your class).
Credit: Tim O'Brien
www.obrienillustration.com